Performances
Feel the grace and beauty as the
Stars of the Sahara make their grand
entrance in a flutter of veils, wings
and shimmery elegance into
centre stage of your special event.
The Stars of the Sahara are truly a sight to behold. Each and every dancer in our belly dance troupe are amazing in their skills and combinations of various dance styles and forms.
Their passion is contagious and brings out the fun and interactive nature of Sheherazade's beautifully choreographed performances.
Our shows and performances are custom designed so it will perfectly compliment any style of event or function.
Weddings

Corporate Events

Birthdays

Anniversaries

Hens Parties

Festivals

Local Community Groups

Charity Events
Since we completely tailor our shows to your occasion, performances can include a sole performer to some or all of the dancers.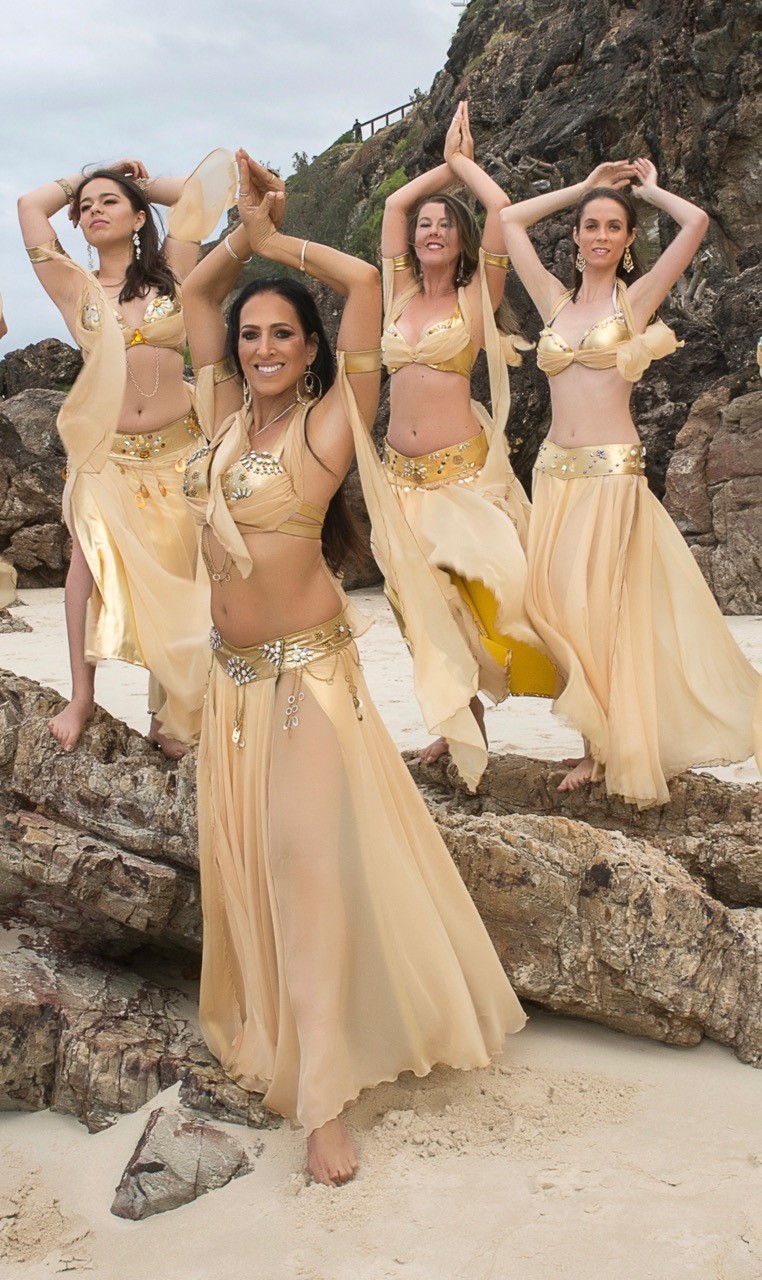 Introducing The Stars Of The Sahara!

SHIRA:
Shira is the face and soul of Sheherazade and the Creative Director of the Stars of the Sahara Troupe.

KATHERINE:
The talented and inspiring Katherine has been belly dancing since 2004 and this year we are proud that she celebrates her 10th year at the school.
Katherine loves the Tribal Fusion genre of Belly Dance, and often incorporates this into her performances, as well as classes as a substitute teacher for the school.
She is greatly admired for her enthusiasm and creativity, adding that extra spark to our classes and troupe performances.

ALEXANDRA:
Alexandra is celebrating ten years with Sheherazade Belly Dance Academy Gold Coast.
Alexandra is passionate about helping others achieve optimal health and is a degree-qualified naturopath.
Alexandra has been a member of the Stars of the Sahara Troupe since its beginning in 2012, and regularly performs at functions and charity events.

EVELINA:
Evelina has been dancing since she was eight years old. She initially started belly dancing because she grew up with Bollywood music and found a similarity between the beats of both genres. 

Evelina loves to dance with the fan veils, and enjoys other performing arts outside of belly dance, whether it be dancing, acting or playing piano.

AMY:
Amy began her belly dancing journey in 2011 after seeing how much enjoyment, strength and fitness it gave her mother and sister. She joined Sheherazade Bellydance Academy Gold Coast in 2013 and she has been performing with the Stars of the Sahara Troupe since 2014.
She has also taught drumming at the Academy's workshops and classes, creating beautiful music for the girls to dance to.
Amy loves dancing with poi, and has combined belly dancing with veiled poi for several performances. She excels in this technique, creating a dynamic fusion.

RACHEL:
Rachel is our newest troupe member, with a strong background in Ballet. Rachel brings these elements into her belly dance style and integrates some of the ballet movements and poses into her performance.
Although Rachel had a large break from dancing to focus on studies and work she has found that the opportunity to perform and be on stage again has given her a renewed confidence and excitement.
She has always loved performing growing up and it wasn't until she was invited to perform at the end of year concert that she was reminded how much she loves dressing up in costume and expressing herself through dance.
"Bellydance Academy Gold Coast is the pre-eminent belly dance academy in south east Queensland. Having been an admirer of the beautiful form for many years I have enjoyed, and have been privileged to have learned, with Sheherazade. Thank you ? Keep empowering women to be who they really are; a blessing to us all. Oh... you will also strengthen your core and muscles you didn't know you had whilst having fun;
what more could you want or need? Enjoy ?"
Cheryl Y
Include us in your next event